Sure, being a fun mom and playful parent sounds wonderful in concept.
But let's get real.
How can we be fun when we have a ZILLION things on our to-do list AND our kids aren't cooperating?
I know, this seems REALLY hard when you're exhausted and the kids are driving you crazy. Or worse, when your toddler is about to meltdown and your strong-willed child pushes back even harder. But being playful actually makes things better, especially since kids love to play.
Good news! You can be playful in less than a minute and your kids will cooperate willingly. Don't worry. You don't need to spend a long time playing a board game, building sandcastles, or running around outside with your kids.
Instead, be like Mary Poppins.
"In every job that must be done, there is an element of fun. You find the fun and—SNAP!—the job's a game!"
—Mary Poppins
With some imagination and playfulness, you can turn those frustrating moments into family fun. No one likes power struggles. To make this as easy as possible, I've included below ten ways you can immediately flip on the playfulness switch.
10 Easy Tips to Be Playful Parent
1. Play Music
Next time you want your kids to put away toys, clean up their room, get ready in the morning, or do chores, play their favorite songs.
It's like magic!
Music energizes tasks, sets a positive mood, and gets people moving faster.
Think of "Hakuna Matata" from The Lion King. This upbeat song will make anyone smile.
Don't be surprised if suddenly your kids start dancing and singing while they work.
2. March, Hop, or Dance
Why simply walk when you can bounce like Tigger?
When you want your kids to do something, make it more active.
"Let's march to the sink with dirty dishes."
"Try skipping while bringing items to your room."
"Go ahead and wiggle your body while setting the table."
3. Guess
This is one of my favorite parenting tips: turn tasks into a guessing game.
"How long will it take to put away the toys?"
"Guess how many songs until you get ready for bed?"
"How many things do you need to collect that belong in your room?"
4. Talk Silly
With a big smile, say in Pig Latin, "Ick-pay up-ay our-yay oys-tay. This will surely catch your kids' attention and set a playful mood instead of merely demanding, "Pick up your toys!"
This is especially true when you wave your arms, use exaggerated facial expressions, and include dramatic gesture.
Or try speaking like you're from another planet, using some made-up gibberish. "Adelinkapooly your toys wigglepiggly in your room."
Whatever you do, just be silly.
5. Sing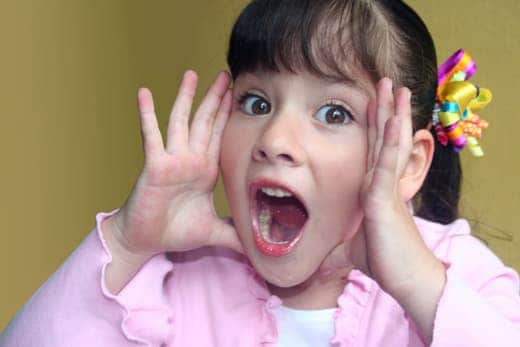 For a really fun parenting tip, sing like an opera singer.
"Brush your teeeeth! Wash your faaaace!"
Also, you can modify a popular song, like"Row, Row, Row Your Boat."
"Clean, clean, clean your room, and then we'll have some fun. Remember to put away your toys, and then you'll be all done!"
[Related Post: The Secret and 46 Tips on How to be a Playful, Positive Parent]
6. Toss
Ugh, dirty clothes are scattered everywhere. When you ask your kids to clean up, you merely get scowls and grunts.
Now suggest that they play a tossing game. They stand a few feet away from their hamper and throw the clothes like a basketball. Score!
You can also toss nonbreakable toys into the toys chest. Or pass an item from one person to the next, all the way to where it belongs.
Cleaning up is WAY more fun with this parenting tip.
7. Use Letters, Numbers, and Colors
Make a game using colors, letters, or numbers.
For instance, pick up everything that's red. Then have someone shout a color and gather those things.
You can also collect items that start with the same letter. With older children, say the first letter of each item, which is a great way to turn the task into a playful learning opportunity.
If you prefer numbers, you can count aloud the number of books you collect. For instance, look for things that are red… start with the letter "B," etc.
8. Race

Set a timer and race.
You can race while everyone gets ready in the morning…
When you want your kids to clean their room…
Or whenever.
9. Modify Favorite Games
Kids love playing games, so modify popular ones, like "Follow the Leader," "I Spy," or "Simon Says."
Ooh! Who wants to be the first leader and choose what everyone picks up?
Or, how about "I Spy with my little eye something red that needs to be cleaned up."
Or, "Simon says to wash your face." "Simon says to brush your teeth." "Stick out your tongue—wait, I didn't say 'Simon Says,' so you can't do it."
10. Play Bingo

Kids love Bingo, so create Bingo grids next time you drag your children to the grocery store. This is a great way to avoid complaining kids and dreaded toddler meltdowns.
When kids are too young to read, ask them to look for certain items or colors. What food is red? Let's look for something yellow. This keeps kids busy even without an official Bingo grid.
We also loved playing Car Bingo during long car rides, like the above example.
Yes, this parenting tip takes longer than a minute to set up, but it's a great way to keep kids occupied. Luckily, there are plenty of pre-made Bingo grids online, so search Pinterest or Google for free downloads.
Which of these tips is your favorite? What are your tricks for being a playful parent? Please share in the comments below.
---
Want to Make Parenting Easier?
Even though parenting is rewarding, it's also stressful. This is especially true when your child doesn't cooperate.
Learn the secret for turning around these frustrating moments.
You'll have more fun as a parent. You'll empower your kids. And you'll spend more quality time with your family.
Craving More Parenting Tips?
Check out these popular posts from my parenting tips blog: