Woo-hoo, the holidays are here! Time for family gatherings and trips. Ugh, then reality sinks in. Flying with young kids and toddlers… this will NOT be fun.
I remember those days when I managed to get my two young children through the airport, lead them onto the plane, deal with take-off and landing, hope I had enough snacks to last the flight, and keep them entertained—non-stop.
Recently, a friend reached out on Facebook asking for traveling advice. She was flying alone with her two children and dreaded the entire ordeal. "Help! I need tips for flying with young kids!"
This got me thinking. There are TONS of other parents in similar situations. And there are MANY people who have been through this challenge. They must have lots of great ideas for flying with kids.
So I reached out and gathered advice from experienced parents who have traveled thousands of miles with their children. Thanks to the 40 parents who provided these tips. Here's to a stress-free and more playful flight that's more fun for everyone!
This Post Covers the Following Topics
Since there are many tips, I've organized them into categories and included links so you can easily jump around. If you have other ideas, please add them in the comments section below. Here's to smoother flying with quieter, entertained, and happy kids (and parents!).
Sign up for a free printable playful parenting tips sheet on quick to implement ways to make parenting easier—on and off the plane. You'll get your child to willingly cooperate in less than a minute.
General Flying with Kids Tips
1. Allow extra time! It takes much longer with kids, so double (or triple!) what you usually do.
2. We try to follow our child's natural pattern and fly when he is most likely to sleep. It's not always possible, but we keep this in mind when booking flights.
3. Pack light, especially for your carry-on bags. (Actually, pack light in general. It's a pain to lug lots of luggage, even those you check.)
4. Bring more snack food then you think you'll need. We learned the hard way. Remember you also need snacks for waiting at the gate and after you land getting to the hotel. We take string cheese, Cheerios, Pretzels, and anything else not messy.
5. It seems obvious but charge everything. AND download videos so you don't depend on Wi-Fi.
6. When I'm flying with my kids, I use a backpack instead of my normal carry-on bags. It's very helpful having everything on my back and having my hands free.
Jump to the list of flying with kids topics
Tricks for Getting Around the Airport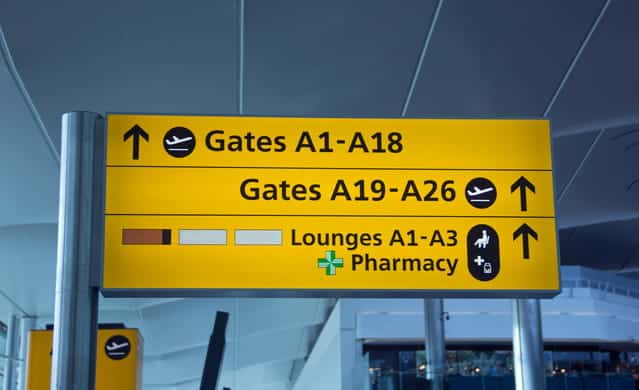 7. I travel a bunch with my 2-year-old and this is what I do. Wear your tiny child (or only one if that's the case) through the airport, in a carrier. Use a stroller to move your bags through the airport…then gate-check your stroller in a sturdy stroller bag (that you push with your bags in your stroller until needed), so it's protected and doesn't get dirty.
8. I've recently found out that you can take a foldable wagon through security, up to the gate and gate check it. I'm going to do this next trip instead of a stroller as it holds more "stuff" and weighs less. Plus we always rent one in Hawaii for hauling gear to the beach so it's one less item to rent!
9. I have our two-year-old walk through the airport and I throw our carry-on stuff in the stroller. This way she's more inclined to sleep later and I don't have to lug everything. Just make sure to allow for extra time. 🙂
10. Around the airport, we have the car seats in a stroller but I've also seen people use a collapsible wagon or trolley.
11. When I fly and don't want to bring the big stroller, I bring a little umbrella one to help me get through the airport.
12. I tell our 2-year-old that he can get one toy at the airport… that keeps us moving. And then he plays with that in the airport and a good deal of the flight. I also have other special toys (some new and some old favorites).
Related Post: Parenting Tips How to Be a Fun Mom and Playful Parent—in Less Than a Minute (Like Mary Poppins!)
13. We like using a backless booster. It's easy to carry through the airport or shove in your stroller. Also, you can add it into the stroller bag when you gate check it. We always stuff the stroller bag with extra items that we need for getting to the gate but don't want to carry with us on the plane.
14. I also find it easier to have a 2 kid stroller, with a car seat for each of them if needed put into it, to get through the airport, and also sturdy enough to carry bags. This also means both kids need purchased seats, but that is safer anyways.
15. When I'm flying with my kids, we run around the airport to get rid of excess energy. Then once on the plane, they're more inclined to sleep.
Jump to the list of flying with kids topics
Useful Items to Bring on the Plane
16. Slip-on shoes are MUCH easier and faster than shoes with laces. With little kids, this extra time adds up.
17. Always carry an extra set of clothes for yourself and the kids. Pack extra outfits in a Ziploc bag so you can compress out the air to take up less space and have something to put the dirty clothes in if you need to change. I also pack all snacks in a Ziploc bag because security sometimes makes you take the snacks out of your carryon.
18. Disinfectant wipes to wipe down the tray tables and armrests.
19. When I fly with kids, I always bring a medical bag with items for fever, allergies, motion sickness, and anything else you might need en route.
20. Carry an empty plastic bag at all times. It's good for gathering your trash as well as if your child vomits.
21. Bring a roll of paper towels. I'm always amazed at how much I use!
22. My toddler is picky, so I bring a small cooler and use frozen Gogurts instead of ice packs to keep the grapes, string cheese, blueberries, and other items cold.
Jump to the list of flying with kids topics
Best Airplane Activities
23. This trick keeps my two-year-old busy for 20-minute stretches! Get lots of fun, colorful, decorative masking tape that can stick anywhere they can reach while seated on the plane. It's used for scrapbooking. You can find it the cheapest from the dollar store.
24. Definitely bring those jelly-like window decorations! Kids love arranging them on the plane's window. They even have fun peeling them off.  Let them decorate the window and wall (also use to act out/ illustrate stories). Throw them out on arrival and bring more for the trip home.
25. We bring a small toy that they've never seen, something to keep them entertained. We also load a tablet with games for them to enjoy or let them watch shows if the plane has tv's accessible.
Related Post: How to Get a Child to Listen and Follow Directions (Simple 3-Step Process)
26. I have my little one carry her own backpack, and I pack crayons/stickers/activity puzzle books.
27 Small gifts you can give to the kids in flight when they start to get antsy (and wrapped is best because that adds time to the process). Put little (dollar store) items to entertain them in small brown bags. Mark with times for opening, so they don't see everything new at the same time. And don't forget to plan similarly for the return trip!
28. If you give your child a tablet, make sure he knows how to use it… and likes it. I suggest practicing at home before the actual flight.
29. We love Water Wow! coloring books when flying with our kids.
30. Bring colored construction paper and a paintbrush. Then paint with water on colored construction paper. It leaves a great mark on the color paper with zero mess! We do this all the time. It's so fun and mess-free!
31. Bring headphones (special for kids). You can find cute ones like this on Amazon.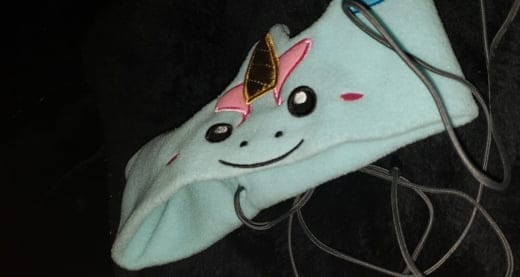 32. Pipe cleaners, pipe cleaners, and more pipe cleaners! They don't take up much room and keep our toddler busy.
33. Wrap interesting objects-not necessarily toys. I use Tupperware and old remotes in some crinkly paper or foil for the toddler to unwrap.
34. Stickers and sticker books! (I get some awesome ones from the dollar store.)
35. Each child brings a baby doll because that is what they are really interested in right now. It also comforts them.
36. Lots of books! We get music and audiobooks, sometimes we borrow these from the library.
37. Wiki stix (order a $5 pack on Amazon. They are a wax-covered string that is very open-ended and not messy.
39. I made (you can also buy) a cover for the tray table that was a sort of mini play mat with roads and such and brought little cars to play with.
Jump to the list of flying with kids topics
How to Avoid Ear Pain During the Flight
39. Applesauce pouches are good for relieving ear pressure. (And don't let the TSA tell you they aren't allowed. They are!)
40. Lollipops or candies like M&Ms that you dole out one at a time for take-off and landing.
41. Rub firmly between the shoulder blades on takeoff and landing – should minimize crying because of pressure changes.
Related Post: 10 Playful Tips to Get Your Sick Child Healthy
42. Use a cup with a straw or a bottle right at takeoff and during descent for landing.
43. We have our 2-year-old suck on a lollipop as we take off and land to assist with ear pressure changes. We also have small treats (M&M's, etc) for him to chew on for this purpose.
Jump to the list of flying with kids topics
Traveling with Toddlers' Car Seats
44. Having our son sit in a car seat keeps us sane during the flight! We found a great trick- prep him beforehand (he usually doesn't like sitting in his car seat). We set up kitchen chairs then practiced finding our seat, buckling in, listening to the flight attendants, and anything else we could think of. We told him that when he's on the actual plane, we'll give him items to play with. It was incredible! He actually sat in his car seat, asked to get buckled in, and then sat nicely for 7.5 hours. I highly recommend practicing beforehand!
45. As for car seats, we use them in the airplane seats. Aside from the safety aspect, it is a much better seat fit, which allows them to nap better. We keep them strapped in for 99% of our flights, but our flights were only 4hrs long. Perhaps a few stretch breaks will help.
46. When flying with kids, use the CARES child safety harness if the older child fits the size (they are sold on Amazon among other places). I find that my 2 or 3-year-old (that is on the larger size for 2) does well in the harness rather than dealing with a car seat. However, our smaller for her age 2-year-old doesn't do as well and needs a car seat.
47. Bring a cheap lightweight car seat if the 2-year-old won't sit without being in a harness (this is also more comfortable for napping).
Jump to the list of flying with kids topics
Bathroom-Related Tips
48. Even if your toddler isn't potty-trained, have them wear pull-ups (but explain they're still a big kid, it's just good to wear pull-ups on planes). The pull-ups prevent our child from having accidents. We also don't have to run to the bathroom. It's not fun being stuck in your seat during turbulence and you can't get to the bathroom.
49. For a carry-on, I like to keep "diaper bag" type stuff but also have a smaller bag/ziplock or wet bag with a couple of diapers, wipes, change pad and change of clothes. This lets me grab it quickly to head to the washroom during the flight.
50. Bring bed protectors, which incontinent people use in bed when they can't control their bladder. They're easy to pack and very useful. When you change your child's diaper, place the protector on the plane. It keeps your child healthy by not touching the dirty floor. They're so convenient, I use several per each flight.
51. We try to get seats towards the back of the plane or near the bathroom… but not too close or it stinks!
52. If you absolutely have to change your child at your seat, remember that there are others nearby who don't want to smell your kid's stinky diaper. Do it quickly and place the soiled diaper into a Ziplock bag.
53. Visit the bathroom before you fly with kids. Yes, you want your child to go to the bathroom. But it also acquaints them with the tiny bathroom and what to expect.
54. When we're flying with kids, I grab extra of everything because you can't buy more diapers or wipes on the plane!
55. In the carry-on backpack, keep a separate SOS diaper kit with diapers, wipes, hand sanitizer, so you don't have to lug the whole bag to the bathroom in case of a diaper blowout. Include SOS top for mom. Blowouts and vomit seem to always happen.
56. Bring extra clothes into the bathroom in case your child has an accident or pees all over themselves. It's much easier to carry in the extra clothes than having to deal with getting back to your seat with a mess on your hands.
And a funny (or not so funny) story from one mom: I kept feeding my son suckers. Except then he threw up. It was me, 2 kids and a business guy with me catching throw up in a diaper. Epic win/fail.
Jump to the list of flying with kids topics
Make Parenting Easier—and More Fun
Learn playful ways to stop struggling with your child with an entertaining, easy to read book, Parenting—Let's Make a Game of It. 
Written for busy parents, this creative approach is shared through amusing short stories with an encouraging down-to-earth tone. An Amazon #1 New Release in 7 parenting categories, this book shows how to put the fun in parenting.
Check out the glowing 5-star reviews on Amazon.
Take a peek and look inside to read snippets and see the table of contents.
Jump to the list of flying with kids topics
Free Printable Tips Sheet
Make sure to download a free printable playful parenting tips sheet with quick to implement ideas. Hang it on your fridge or carry it with you as a reference when you need some "you got this!" support.