Wouldn't you love to give your child a superpower to deal with stress? Good news, your child is born with a superpower—their breath. Now you can empower them with breathing exercises, especially for kids.
These practices can be life-changing. They're for kids of all ages—and the kid in all of us.
When your child is feeling happy, sad, or anxious, it is reflected in their breath. Our breath is always with us, so let's make it the best it can be.
"In case of an emergency. stop, drop and roll… and take a breath!"
—Missy Brown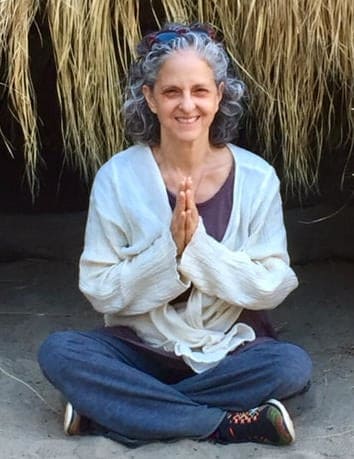 Meet Missy, a pioneer in the field of yoga and mindfulness for kids.
After teaching preschool for many years, Missy founded the school, Deep Play for Kids. She has trained more than 500 professionals who have taught kid-friendly breathing exercises to thousands of children.
Missy is excited to share four of the 46 playful breathing exercises from her engaging, simple book, "Breath Breaks with Missy."
4 Playful Breathing Exercises for Kids

1. Bear Breath
Breathe your way to quiet like a hibernating bear. This is an opportunity to go inside, find connection, quiet and calm.
Open your palms ~ These are the caves.
Tuck in your thumbs ~ These are the bears going inside.
Gently wrap your other 4 fingers around the 'bears' ~ making a soft fist.
Place your resting bears on your lap.
Invite the bears to take a rest with some slow breaths in and some long breaths out, slow breaths in and long breaths out.
2. Balloon Breath
Find a comfortable way to sit or lay down.
Imagine there is a balloon in your belly. It can be any color you choose.
Place your hands gently on your belly and as you take a breath in, feel your belly get big like blowing up a balloon. As you let your breath go, feel your belly come back like deflating a balloon.
Repeat this a few times and if you would like, try closing your eyes while you practice it.
You can place a secret love message into your balloon and with your breath, imagine those thoughts being sent all over the world! These balloons can be colored for added relaxation.
3. Stop Sign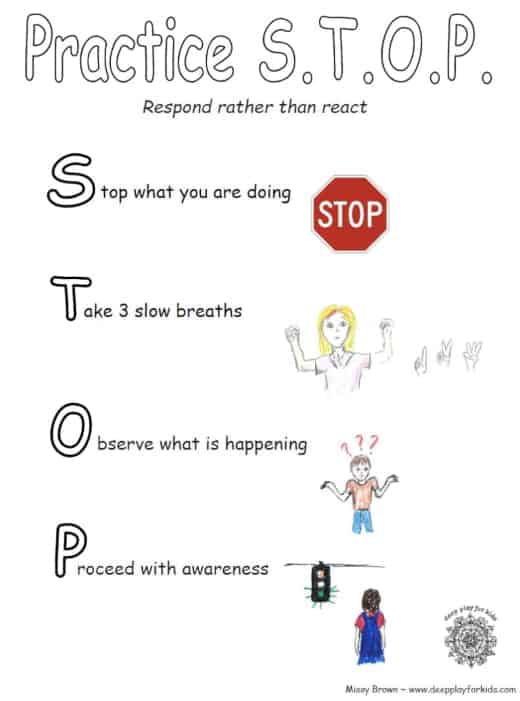 4. Square Breath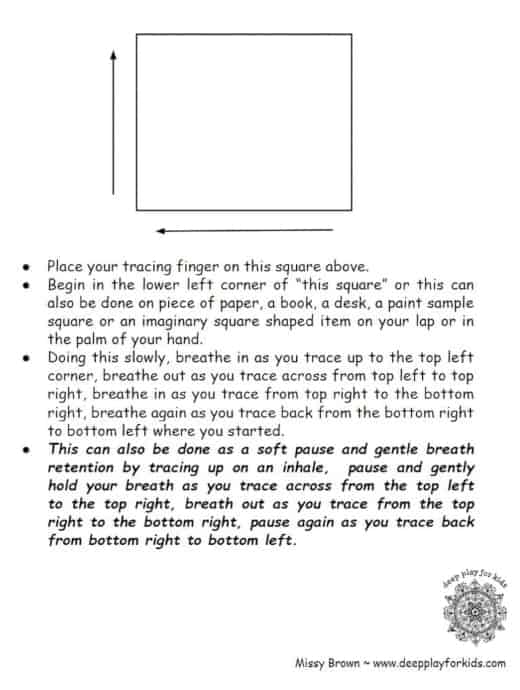 Place your tracing finger on a square.
Begin in the lower-left corner of "this square" or this can also be done on a piece of paper, a book, a desk, a paint sample square, or an imaginary square-shaped item on your lap or in the palm of your hand.
Doing this slowly, breathe in as you trace up to the top left corner, breathe out as you trace across from top left to top right, breathe in as you trace from top right to the bottom right, breathe again as you trace back from the bottom right to bottom left where you started.
This can also be done as a soft pause and gentle breath retention by tracing up on an inhale, pause and gently hold your breath as you trace across from the top left to the top right, breath out as you trace from the top right to the bottom right, pause again as you trace back from bottom right to bottom left.
Related: How to be a Fun, Playful Parenting… in Less Than a Minute (Like Mary Poppins)
Reduce Your Child's Stress
Another way to reduce your child's stress is to minimize power struggles. Through playful parenting, you can turn everyday frustrating situations into fun learning experiences.
Instead of nagging and yelling, be playful like Mary Poppins. Kids love to play, so when you're playful, you work with your children rather than against them. You'll quickly discover that within minutes, even strong-willed kids will listen and cooperate willingly.
This parenting style was a lifesaver when my kids were young, especially as a stressed-out mom. It can help you too.
I share this playful approach in an entertaining, easy to read book, Parenting—Let's Make a Game of It. Written for busy parents, learn how to playfully stop struggling with your toddlers and school-age children. The how-to messages are shared through amusing stories, and the down-to-earth tone leaves you feeling encouraged.
The results?
♥ You'll make parenting more fun
♥ You'll empower your kids
♥ Your family will spend more time connecting
You can find my book here. An Amazon #1 New Release in 7 parenting categories with glowing 5-star reviews. Look inside for a sneak peek.
"This delightful, whimsical book is a fun, easy-to-read treasure. It is playfully and powerfully presented for most anyone who has children in their lives."
–Missy Brown, founder of Deep Play for Kids
Want More Parenting Tips?
How to be a Fun, Playful Parenting… in Less Than a Minute (Like Mary Poppins!)
How to Enjoy Parenting with 46 Tips
Working at Home with Kids (Toddlers!)- 13 Quick Tips
Missy's Mindful Breathing Meditation
Pause and spend 4-minutes to slow down your breath, body, and mind. Click here to listen to Missy's calming mindfulness meditation.
An Interview with Missy Brown
This is part of my "Tips from the Pros" series, where I interview professionals who work with children. You'll benefit from their years of experience as they share helpful advice.
Why Should We Teach Kids Stress Relief Techniques?
Anxiety and stress in children are reaching epidemic levels. Academic pressures and life expectations are compromising emotional well-being. Overall wellness and academic health cannot thrive if emotional, psychological, and mental health is not intact.
Time is overfilled, lives are overfilled, to-do lists are overfilled. The opportunity to be, play, wonder, and internally explore is highly at risk.
Not long ago, TV was a distraction however it could be turned off. Now we take 'that' with us to our desks, our kitchens, our nightstands, into our pockets, our bags, and backpacks, on our wrists. Our brains, and more so children's brains, are constantly being remodeled. The brain best focuses on one complex task at a time.
Mindfulness and presence are a must for mental health and wellness to thrive. Happiness and connection are our birthrights. We need tools for navigating life.
What is Your Mission?
I am devoted to help others and feel deeply honored to have the privilege of sharing these practices. I'm passionately committed as they have changed my life, my children's lives, and I truly believe they have the possibility to change the lives of many generations.
One child at a time, one breath at a time. Let's give our children tools to have an abundant life.
To intimately participate, wholeheartedly, to live with fortitude, radiantly, radically, authentically, perfect as a whole as they are. The fierce urgency of now calls us.
Tell Us About Deep Play for Kids
Deep Play for Kids offers a safe opportunity to reconnect through play. All Deep Play for Kids programming is created to best support the population being served. Classes, private sessions, training, and programs provide a methodology and practical application of research-based yoga, creative movement, mindfulness, breathing techniques, and meditation for personal use as well as to share with children.
Deep Play for Kids includes the FUNdamentals of developing tools and strategies in an interactive and educational way. We offer Professional Development Programs, Teacher Certifications, Yoga Trainings, Immersions for Kids, Children's Camps and Classes, Parenting Workshops, Mindful In School Foundations, Creative Curriculum Implementation, Private in Person Session, Virtual Session, and more.
Tell Us About Yourself
I am a proud momma of three amazing sons and two delicious granddaughters, and I live in Connecticut with my beloved partner, Joe, and our four-legged furry animals. Prior to starting Deep Play for Kids, I worked in a pre-school for many years, seeing each child as their true self. I saw that children who participate in wellness experiences at an early age are given the opportunity to create a solid foundation and fill their "toolbags" to carry throughout their lives.
For many years, I had a children's center in Westport, Connecticut where I offered kids classes in yoga, dance, movement, art, and science. In addition, the center offered a yearly summer camp, and kids and family cooking classes. Parenting groups, private sessions, and family options were also included.
Deep Play for Kids has been cultivated and created from my life's curriculum and now has become my mission to share what has been gifted to me. I've been teaching Deep Play for Kids in schools for nearly 20 years.
Do You Also Teach Yoga?
Yes, I'm on the faculty at Kripalu Center for Yoga and Health, North America's largest residential facility for holistic health and education.  Additionally, I'm a teacher in the Pranotthan School of Yoga, Assistant Director for Let Your Yoga Dance Trainings, and have co-created "Learn to Teach Let Your Yoga Dance to Kids and Teens." As a Yoga Alliance Continuing Education Provider, I hold numerous and diverse certifications in the fields of mindfulness, wellness, yoga, and meditation.
Which of Missy's breathing exercises do you like? Do you have your own favorite? Please share in the comments below.
Free Printable Tip Sheet
Download a free printable tips sheet with 10 quick to implement playful ideas for making parenting easier and more fun.