I'd love to hear from you! My email is Karen@ThurmSafran.com.
You can follow me on these social media sites:
Instagram
Pinterest
Facebook
Twitter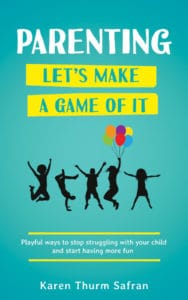 Oh yeah, Parenting—Let's Make a Game of It is cheaper than a Contigo travel mug.
Save with the Summer Special!
eBook $4.99 at Amazon, Kobo, and Barnes & Noble. Paperback $8.99 at Amazon.

Popular posts from my blog: