Congrats! Get ready for your child to willingly cooperate… in less than a minute.
Download the printable tips sheet.
I was a stressed-out parent. No kidding. But parenting became easier and more fun when I used my parents' playful approach.
When parenting is hard, make it a game!
Instead of yelling, use playful ways to stop struggling with your toddler and school-age children. It really works. (And one of my kids is very strong-willed!)
I want to help others, so I wrote an entertaining, easy to read book for busy parents: Parenting—Let's Make a Game of It. The how-to messages are told through amusing stories with an encouraging, down-to-earth tone. It entertains as well as inspires.
Look inside for a sneak peek and read two sample chapters.
Want your kids to help with chores? Chapter 5: A Playful Let's-Keep-The-House-Neat-Unpacking Game will inspire you.
Children taking forever getting ready? Chapter 21: Avoiding the Morning Madness tackles this annoying issue.
Do you want your child to overcome fears? Chapter 12: Winning the Spider Game will make you chuckle at this mom's creativity.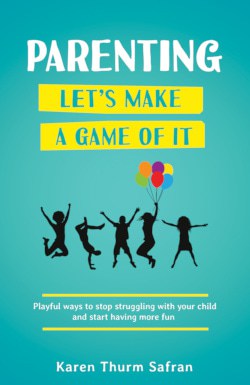 Cheaper than getting take-out… and lasts much longer.
Only $5.99 (Kindle) and $7.99 (paperback)
"A charming and helpful book for anyone struggling with their young children. Written in a whimsical tone, the book's gentle wisdom unfolds until you discover your ability to loosen up, have fun, and enjoy your kids." —Dr. Fred Luskin, author of "Forgive for Good" and director of the Stanford University Forgiveness Projects