Like many parents, the mom in Parenting—Let's Make a Game of It faces everyday challenges during her kids' preschool through elementary school years.
Her children are impatient, not listening, uncooperative, upset, and even having meltdowns.
When she changes her approach, things quickly improve. Soon her kids willingly listen. Tension turns to quality time. And life becomes more playful.
One of my favorite chapters is "Proud Member of the Clean Plate Club: Eating with Manners." It's loosely based on an incident when one night my young son started eating like a pig.
Well, he was actually eating more like a puppy dog—licking his plate clean.

I was mortified. Appalled!
Even though I felt like screaming, I knew I needed another technique to teach him proper table manners.
Let's see how the book's mom, Carrie, handles this challenge.
Intro to "Proud Member of the Clean Plate Club: Eating with Manners"
I feel like shouting "Justin, stop!" Instead, I cringe silently, watching my four-year-old son lift his tomato-smeared plate, open his mouth, and stick out his tongue.
Surely, he'll stop.
But he doesn't. His six-year-old sister, Emily, watches and giggles.
Are you kidding? No way! What should I do?
While I struggle with my internal dialogue, my kids fidget and stare, waiting for my reaction.
Then it hits me…
Want to Find Out What Happens Next?
Click here to read the rest of this chapter. In a few minutes, you'll gain new insights… and have a few laughs.
See how this playful approach has helped parents worldwide.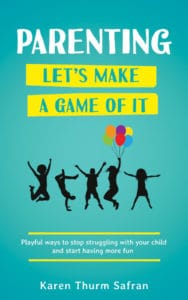 Cheaper than a spaghetti dinner… and as delicious.
Don't miss out on the Summer Special!
eBook $4.99 at Amazon, Kobo, and Barnes & Noble. Paperback $8.99 at Amazon.
Take a peek at the Table of Contents to see the names of the light-hearted chapters. Or learn what inspired me to write this book.
Make sure to check out lots of parenting tips. Here are the popular posts from my blog: