"Love these inspiring stories! They shift unhappy and frustrating moments into fun learning experiences."
—Alice Wahl Lachman, parent and educator
Don't have time to read?
No problem.
Parents are busy, so Parenting—Let's Make a Game of It is easy to read with stand-alone chapters. Each one only takes 5-10 minutes.
It's perfect for waiting in line or whenever you have a few moments.
You can also flip through the book to a specific section that addresses your particular parenting challenge.
Since it reads like fiction, it entertains as well as inspires playful parenting.
Meet Carrie and Her Kids
Like most parents, the mom in this book, Carrie, faces everyday challenges during her kids' preschool through elementary school years. Emily and Justin are impatient, not listening, uncooperative, upset and even having meltdowns.
When she changes her approach, things quickly improve.
Soon her kids willingly listen. Tension turns to quality time. And life becomes more playful.
Take a Peek Inside
Part I: Ugh, My Child Won't Cooperate
Pumpkin, Pumpkin, Drink: Getting Kids to Drink When They're Sick
Proud Member of the Clean Plate Club: Eating with Manners. (Read this sample chapter.)
Do We Have to Visit a Dumb Art Museum? Making Museum Visits Fun
Sixty Packets of Oatmeal: Using a Bar Graph to Incentivize Kids
A Playful Let's-Keep-The-House-Neat Unpacking Game: Using Music to Make Chores Fun
Ooh, Where Do You Want to Go? Engaging Kids While Walking to the Airport Gate
When You Wish Upon a Star: Assigning Chores with an Odd-Even Reward System
Part II: Oh No, My Child is Distressed
Please, Just One Night of Sleep: Making a Child Feel Secure at Night
Let's Fly the Plane! Gaining Control to Tackle a Fea

r

The Surprise Impromptu Dance Performance: Turning Fear into Fun
The Secret Magical Breath: Teaching Stress Reduction with Mindful Breathing
Winning the Spider Game: Tackling Fear Through Desensitiza

t

ion

Why-I-Love-Indian-Food-So-Much-That-It's-The-Only-Thing-I-Want-To-Eat: Teaching Writing Skills
The Day We Screamed Profanities While Driving to Synagogue: Tackling Fear by Challenging the Inner Voice
Part III: Uh-Oh, My Child is Bored
One, Three, Five, Seven, Nine. Odd Numbers Are Mighty Fine: Gas Station Guessing Game
The Eyebrows-Raised-Head-Nodding Signal: Getting a Server's Attention
How Long Before Our Turn? Making a Game of Waiting in Lines
Are We There Yet? Keeping Kids Entertained in the Car
Passing Time with the Alphabet Search Game: Keeping Kids Busy and Quiet
Part IV: Yeeks, Everything is Overwhelming
Where Do You Live? Memorizing Things to a Song
Avoiding the Morning Madness: Empowering Kids with a Morning List
Avoiding the Nighttime Nonsense: Empowering Kids with a Nighttime List and Fun Incentive

The Clothespin 

School Folder Organizing Game: Managing All That School Info
The Anything-But-Boring-Mommy-Daddy Calendar: Making Splitting Time Between Parents Easier for Kids
The Spiffy Project Planning Calendar: Avoiding Procrastination
Part V: Oh Yeah, Live Life to the Fullest
A Very Important Appointment: Taking Time to Cherish Life
Read a sample chapter and in a few minutes, you'll gain new insights on getting kids to listen… and have a few laughs.
---
This Playful Approach Works
When you're overwhelmed and your kids are driving you crazy, it's definitely easier to nag or yell.
The last thing you want to do is be playful!
However, this approach really works.
It makes parenting easier and more fun and provides more family quality time.
Here's How it Empowers Children
Entertains kids when they're bored and disruptive.
Calms them when they're upset and melting down.
Stops them from whining and fussing.
Makes writing, organizing schoolwork, and project planning more fun.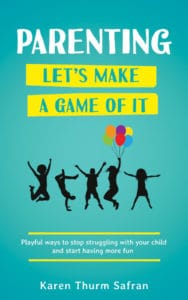 Cheaper than DoorDash food delivery.
Save with the Summer Special!
eBook $4.99 at Amazon, Kobo, and Barnes & Noble. Paperback $8.99 at Amazon.

Still not sure? Look at reviews and praises from mommy bloggers, therapists, and parents.