Your kids are misbehaving, not listening, and melting down. You're frustrated, overwhelmed, and ready to scream.
We've all been there!
It's exhausting getting them ready for bed. And a struggle getting them out each morning. 
Wouldn't You Like to Make Parenting More Fun?

Parenting—Let's Make a Game of It entertains as well as inspires "out-of-the-box" thinking for turning parenting into a game. Through light-hearted stories, you'll learn playful ways to stop struggling with your child and start having more fun.
By using games to deal with everyday frustrating moments, you'll avoid confrontations, end arguments, encourage cooperation, and even get kids to help around the house.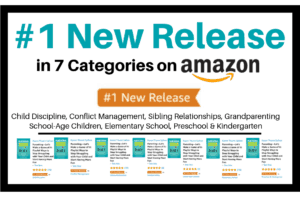 The Results are Amazing!
You'll have more fun as a parent.
You'll empower your kids.
And your family will spend more quality time connecting.
"Unlike most parenting books, which are boring, this one is easy to read and entertaining. Instead of recommending consequences or rewards, this book teaches you how to create games to encourage desired behaviors in your children."
— Mark Thomas
Like many parents, the mom in this book faces challenges during her children's toddler through elementary school years.
When she changes her technique and uses games, things quickly improve.
Tension turns to quality time.
And life becomes more playful.
"A charming and helpful book for anyone struggling with their young children. Written in a whimsical tone, the book's gentle wisdom unfolds until you discover your ability to loosen up, have fun, and enjoy your kids."
—Dr. Fred Luskin, author of "Forgive for Good" and director of the Stanford University Forgiveness Projects
Find the Fun in Parenting
This playful approach keeps kids entertained when they're bored and disruptive. It calms them when they're upset and melting down. It stops them from whining and fussing.
"This is a fabulous book written by a fun mom who knows how to make parenting a game – and makes it easier for everyone! This book contains stories with examples of how to turn a tricky parenting situation from kids whining to engagement and excitement. I'm quickly noticing when I put on a huge smile and make a situation sound fun rather than tedious, my preschooler is much more receptive and we have fewer battles. Two thumbs up from us both!" 
—Julie S, "Fab Working Mom Life" mommy blogger
Uh-oh, your child lifts his tomato-smeared plate and opens his mouth. His tongue darts around, slurping and lapping up the leftover sauce. What should you do?
Read a sample chapter and see the surprising and playful way the mom teaches her son table manners.
More Praise for this Book
"Through stories, parents will discover how to turn tears and conflict into joyful connection and positive change."
—Dr. Cheryl B. Lamin, clinical psychologist
"A real treat! The light, fun and engaging stories have depth. They highlight critically important elements of effective parenting–respect and empowerment." 
—Dr. Jane Coles Ryter, clinical psychologist
"This delightful, whimsical book is a fun, easy-to-read treasure. It is playfully and powerfully presented for most anyone who has children in their lives."
—Missy Brown, founder of Deep Play for Kids
"This book will help any family deal more effectively with their children. They will find it not only useful but fun as well."
—Rabbi Dov Peretz Elkins, co-author of "Chicken Soup for the Jewish Soul"
"This book will not only bring a smile to your face, but it will open your eyes to simple and creative ways to positively cope with everyday parenting stresses."
—Monica Raines-Goldberg, parent and educator
About the Author
I'm a mom with two grown kids, and I've spent my life immersed in this playful approach.
I wrote this book to help other families.
If this playful technique helped me as a stressed-out single parent, it can help anyone.
Here's more info about me and a look at the Table of Contents.
Whether you're a parent, grandparent, caregiver, or someone who works with children, Parenting-Let's Make a Game of It will spark your playfulness and turn chaotic moments into cherished memories.
What are you waiting for? Parenting, let's make a game of it!